Love

Love is patient, love is kind, it does not envy, it is not proud, it is not rude, it is not easily angered.  Love keeps no record of wrongs.  Love does not delight in evil, but rejoices with the truth. Love always protects, always trusts, always perseveres, always hopes.  Love never fails.  Love endures all things.  God is love...faith, hope and love, these three; but the greatest of these is love.  Pursue love...desire spiritual gifts.  Behold what manner of love the Father has bestowed upon us, that we should be called children of God!  He loves me.  Jesus loves me!
3 Lilies
Consider the lilies of the field how they grow: they neither toil nor spin, yet Solomon in all his glory was not arrayed like one of these.  Now if God so clothes the grass of the field...will HE not much more clothe you, O you of little faith?  Therefore do not worry, saying what shall we eat? or waht shall we drink? or what shall we wear? For your Heavenly Father knows that you need all these things.  SeekYe first the kingdom of God hand HIS righteousness, and all these things will be added.  Therefore do not worry about tomorrow, for tomorrow will worry about its own things...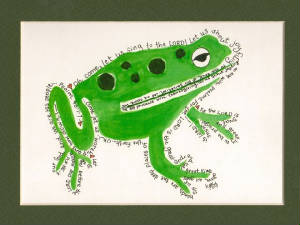 8 x 10
Jesu I am YOURS...I praise you with my whole heart.  I will extol YOU, my God, O King and bless YOUR name...Great is the LORD.  HE is praised...I will mediatate on YOUR splendor.  JESUS, YOUR ways are awesome...you are so good...YOUR mercies endures forever.  I love YOU!

I am the Vine (Green and Purple)

I am the Vine, you are the branches.  HE who abides in ME, and I in him, bears much fruit...without ME you can do nothing.  If you abide in ME, and my Words abide in you, you will ask what you desire and it will be given...by this MY Father is glorified, that you bear much fruit; so you will be MY disciples.  As the Father loved Me, I also have loved you; abide in My love.  If you keep My commandments, you abide in My love, just as I have kept my Father's commandments and abide in HIS love.  These things I have spoken to you, that MY joy may remain in you, and that your joy may be full.  This is my commandment that you love one another.  Give thanks to HIM!  Greater love has no one than this...Christ died for us.  John 15
I am the Vine...Abide in ME